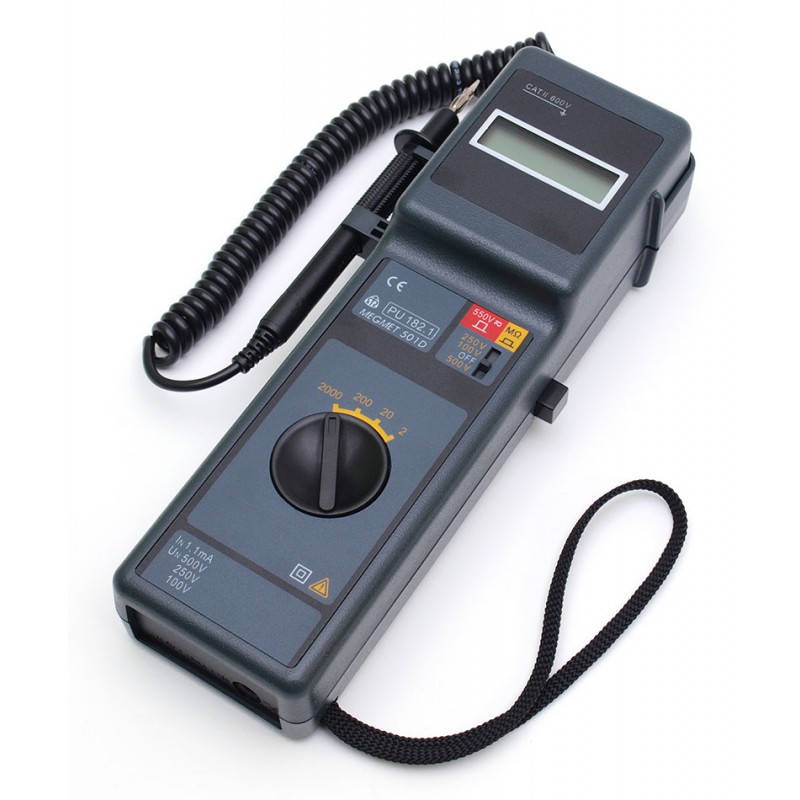 ---
Measuring instrument for insulation resistance measurement.
The instrument is primarily intended for measurement of the insulation resistance of electrical objects and equipment according to the CSN 331610 standard (for electrical appliances) with nominal voltage 100 V, 250 V and 500 V. It also allows to measure AC and DC voltage up to 550 V,
User-friendly operation and minimum maintenance.
Blocking of insulation resistance measurement at presence of an external voltage on the measured object.
Automatic discharge of contingent capacitance component of the measured object after finished measurement.
Automatic switch-over and indication of AC/DC voltage while measuring strange voltage at DC voltage of the polarity indication
Indication of insufficient voltage at power supply cell batteries.
The instrument and its accessories are manufactured with double insulation
The instrument complies with the safety requirement pursuant to CSN EN 61010-1, EMC requirements pursuant to CSN EN 50081-1, CSN EN 50082-2, CSN EN 61557; it meets the requirements of DIN 57 413/VDE 413, Volume 1
Technical parameters:
Insulation resistance r: 0,2 - 1 999 MΩ
Nominal alternating voltages: 100, 250, 500 V
Measuring range for AC voltage: 20 ÷ 550 V/ 45 - 65 Hz
Measuring range for DC voltage: 20 ÷ 550 V/ 45 - 65 Hz
Insulation resistance: 0,10 ÷ 1,999 MΩ, 0,15 ÷ 19,99 MΩ, 5,0 ÷ 199,9 MΩ, 50 ÷ 1999 MΩ
Basic accuracy: (2% z MH + 5D) for voltage and insulation resistance
Battery: rechargeable power supply unit ZDA 31 upon a special order
Weight: approx. 500g
Dimensions: 308 x 92 x 57 mm