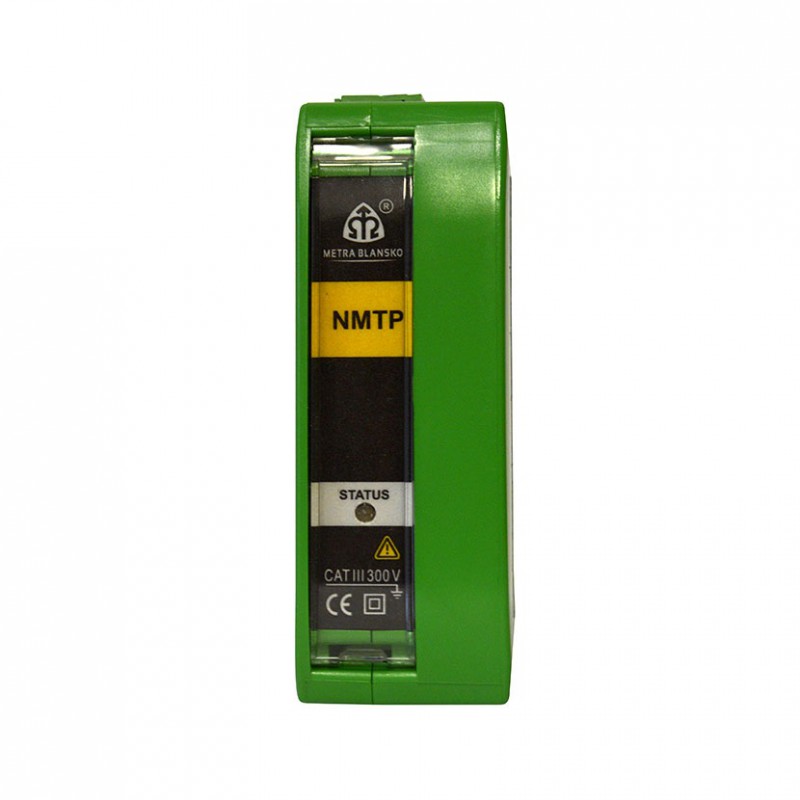 NMTFi - PHASE ANGLE AND POWER FACTOR TRANSDUCER OF SINGLE-PHASE AC ELECTRIC POWER
---
The NMTFi device is a phase angle and power factor transducer operated in single-phase power network and featuring two independent analogous outputs. The A output measures the phase angle between voltage and current, the B output measures the power factor. In such a was one single NMFTi transducer is able to replace two customary transducers thus making it possible to achieve significant savings in installation space.
ENGINEERING PARAMETERS
power supply voltage 20V to 300V DC or 24V to 260VAC/50 Hz (60Hz)
power consumption 3 VA at full load at the outputs
number of voltage inputs 1
rated input voltage selectable within 57.7V to 500 V
overload capacity of voltage input 120% of Un rated voltage, constant operation
200% of Un, for short time (1s)
number of current inputs 1
rated input current In selectable within 1 A to 5 A
input current range 0 to 1.2 of In (rated current)
overload capacity of current input 1.2x In; 20x In during a short time (1s)
phase angle measuring ranges ± 60°; ± 90°; ± 120°
phase angle measuring accuracy ±0.02°
power factor measuring range (cos φ) 0.5 cap ... 1 ... 0.5 ind
power factor measuring accuracy ±0.002
current outputs 0...20mA; 4...20 mA , or 0…x mA (x= 5 mA to 20 mA)
voltage outputs 0...10 V or 0…x V (x= 1 V to 10 V)
voltage output Run = Uan / 2mA
current output Rin = 5 V/ Ian (Ian = rated output current)
permitted output load range
voltage output Ru > than 0.25 Run
current output loop resistance Ri of less than 2xRin
settling time after connecting the power supply 1 minute
dielectric strength (to ČSN EN 61010-1 standard)
between inputs and outputs, between inputs and the power source, between inputs and the auxiliary power source, terminals against the cover 3700V, 50Hz/1min
between the inputs 1000 V, 50 Hz/min
material of the case PC/ABS
weight max. 200g
dimensions 101x114x35 mm
operating temperature range -25° C to +70°C
operating position any desired
protection degree IP 20
electromagnetic compatibility radiation: in accordance with ČSN EN 55011-B standard
immunity: in acc. with ČSN EN 6100-6-2, ed.3 standard
safety corresponding to ČSN EN 61010 – 1 standard: equipment of the protection class II, overvoltage category III in the installation (highest voltage of 300Vrms against the earth), pollution degree 2
Order code
The parameters of the input and output are defined by a six-digit code. It is essential to accurately specify the X parameters in the purchase order.
Ordering

NMTFi

*

*

*

*

*

*

Rated input voltage [ V ]

100/ √3

1

110/ √3

2

100

3

110

4

230

5

400

6

other value

X

Rated input current [ A ]

1,0

1

2

2

5

5

other

X

Phase angle measuring range

± 60°

1

± 90°

2

± 120°

3

other value

X

Power factor measuring range

0.5 cap. ... 1 ... 0.5 ind.

1

other value

X

Output A phase angle

0…10…20 mA

1

4 …12…20 mA

2

0… 5 …10 V

3

other value

X

Output B power factor

0…10…20 mA

1

4 …12…20 mA

2

0… 5 …10 V

3

other value

X
MANUFACTURED BY:
METRA BLANSKO s.r.o. Company ID No.: 023 56 180
Pražská 2536/7 Tax reg. No.: CZ02356180
67801 Blansko, Czech Republic Web: www.metra.cz