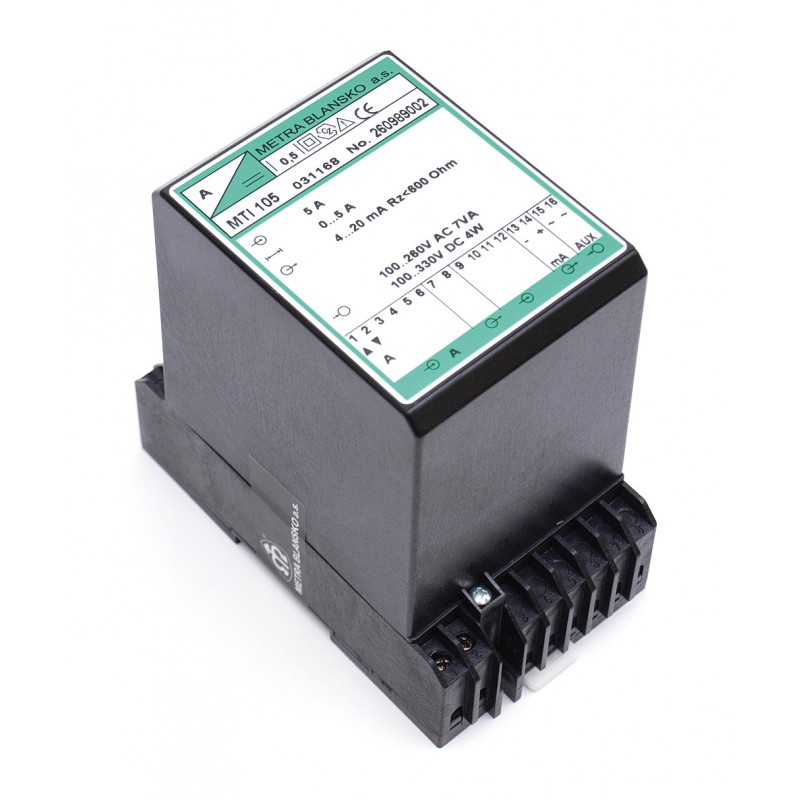 Converter of Electrical Quantities
We offer a wide range of converters of electrical parameters made in many standardized dimensions and variants. For detailed information, please contact our Sales Department.
To order the devices as contact us at: mcu@metra.cz
The converters are intended for the conversion of electrical quantities DC signal which is either in form of the DC voltage, or the DC forced current. They can be used in connection with indicating pointer instruments, calibrated in units of the measured quantity, or with a recorder or, eventually with a digital instrument. Wide range of possibilities are provided by them, also as sensors for regulation and control porposes in the fields of industrial measurements and, last but not least, as needful components for aquisition of technological enviroment picture applied for evaluating and processing computer systems. The converters are designed for continuous operation. They are designed as independent, built in the plastic casing. Each converter comprises the input circuits for the galvanic separation of the proper measuring circuit and the output amplifier for the output signal conversion to the unified output.
ADVANTAGES
A simple assembly on the DIN rail
High resistance to interfering voltages
Electrical resistance between the output and input of 3700V
Large selection of different designs
Optional characteristic of the converter
Optional power supply types
A large amount of operating temperatures
Certification for JE application
Traditional quality of product brand METRA BLANSKO s.r.o.
Adaptation to the requirements of customers