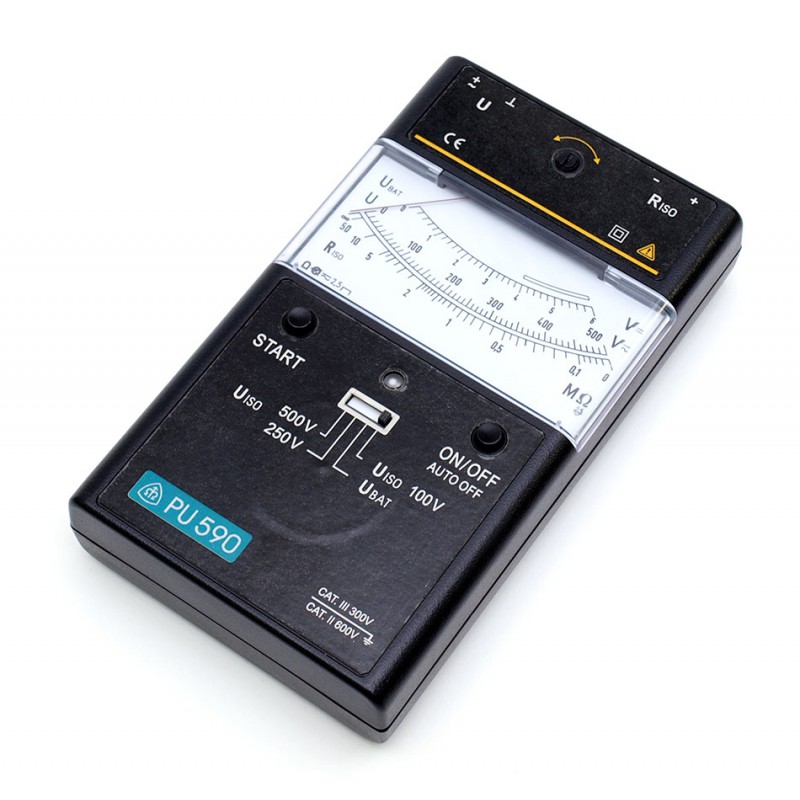 Analogue measuring instrument of insulation resistance for insulated IT networks.
The instrument PU 590 is intended for measurement of the insulation resistances and voltages in insulated IT networks, signalling and safety systems or at presence of disturbing voltage. PU 590 can also be used for common measurements of the insulation resistances. It complies with the requirements of the CSN EN 61557-2 ed.2 and CSN EN 61010-1ed.2 standards.
The instrument in placed in a casing of the PU 500 series with analogue measuring device. For
measurement of the insulation resistance and voltage, separate pairs of slots are used. The measuring voltage for insulation resistances and the measurement of power-supply are switched-over by a slide switch. The instrument is equipped with a circuit for automatic switching-off. The instrument power supply is provided by four AA-size cell batteries (dry or rechargeable batteries), which are accessible after removal of the instrument bottom cover. The measuring mode is indicated by a two-coloured LED.
Technical Parameters:
Measuring ranges of AC/DC voltage: 5 V to 500 V
Measuring ranges for insulation resistance:
for nominal voltage of 100 V circumference 100 kΩ to 20 MΩ
for nominal voltage of 250 V circumference 100 kΩ to 50 MΩ
for nominal voltage of 500 V circumference 100 kΩ to 50 MΩ
Length of the scale: 80,5 mm
Dimensions: 168 × 96 × 35 mm