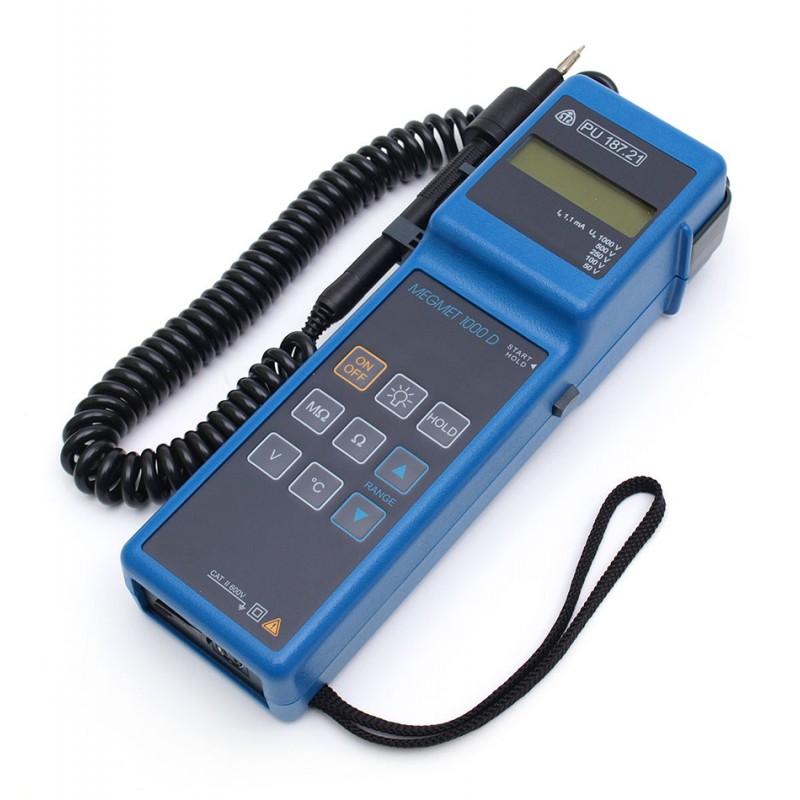 ---
Instrument for insulation resistance measurement.
Instrument PU 187.21 MEGMET 1000 D is intended for measurements of the insulation resistance up to 20 GΩ and the resistance of protective conductor up to 2 kΩ, its length; it can be used for checking the over-voltage protections. It also measures DC / AC voltage up to 1000 V and the temperature within the range -20 °C ÷ 120 °C, with a connected external sensor within the range -50 ÷ 850 °C. Nominal measuring voltages for the insulation resistance measurements are 50, 100, 250, 500, and 1000 V.
MEGMET 1000 D complies with the requirements of following standards:
DIN 57 413/VDE 0413, 1. Volume: Measuring instruments of insulation resistance CSN 33 1600 Revisions and inspections of electrical manual tools during use, CSN 331610 Inspections and revisions of electrical appliances during use, CSN EN 61557
CSN EN 61010-1 Safety requirements for electrical measuring, control and laboratory devices
The instrument meets the requirements of standard in the field of electro-magnetic compatibility.
Functions and features:
Micro-processor control of the instrument.
Digital display of measured data alongside the analogue one (bar graph)
Calculation of cable length from the measured resistance value
Measurement of AC / DC voltage, over-voltage protections
Measurement of insulation resistance up to 20 GΩ
Measurement of low resistances (length of the measured wired) with disturbing voltage indication.
Memory for measured values with the possibility of bi-directional transmission to PC through RS 232
Battery recharge inside instrument possible
Low weight and small dimensions
Casing design identical with that of Megmet PU 182.1
User-friendly operation and minimum maintenance
Technical parameters:
Measurement of AC / DC voltage: 0 to 1000 V ± (2%MH + 5 D)
Nominal voltage: 50, 100, 250, 500, 1000 V
Insulation resistance: (nominal current 1,2 mA ± 0,2 mA): 0,1 to 20 GΩ ± ( 5% + 5 D )
Protective conductor resistance: 20 Ω, 200 Ω, 2 kΩ ± ( 5% + 5 D )
Over-voltage protections: 0 to 1000 V; 1,2 mA
Temperature: -20 to + 850 °C
Calculation of cable length: 0 to 19,9 km, dia. 0,125 to 6,0 mm² Cu / dia. 1,0 to 6,0 mm² Al
Memory for 1 999 measured values (250 BANK) with the possibility of transmission through RS 232 to PC
Insulation resistance: 0,1 MΩ - 20GΩ (50 + 15) V, 0,1 MΩ - 20GΩ (100 + 20) V, 0,1 MΩ - 20GΩ (250 + 20) V, 0,1 MΩ - 20GΩ (500 + 50) V, 0,1 MΩ - 20GΩ (1000 + 100) V
Dimensions: 308 x 92 x 57 mm
Basic accuracy: ± (2% MH + 2D)