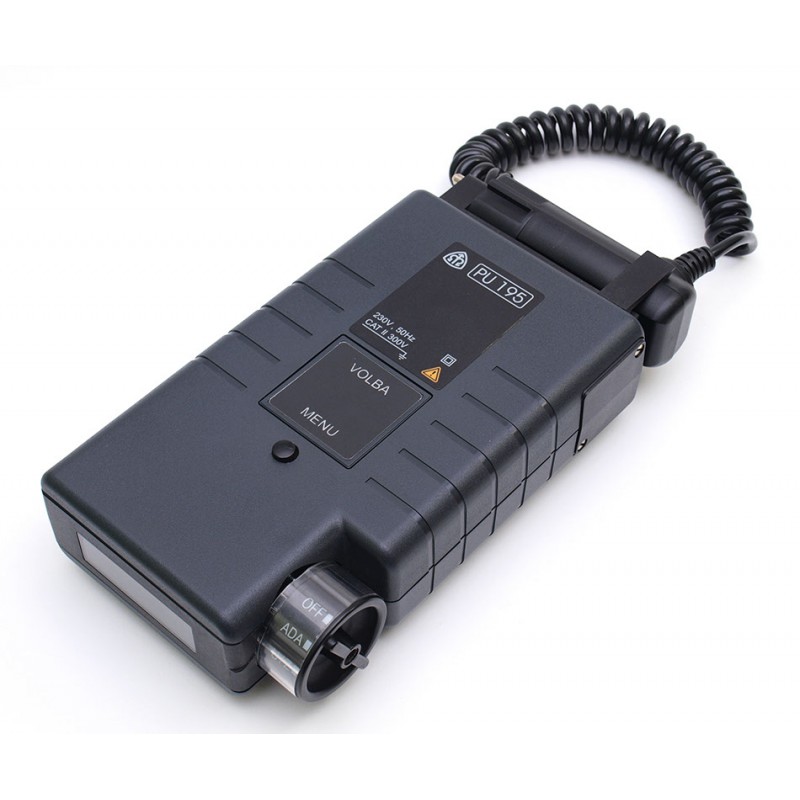 PU 195, cena 23.000,- Kč bez DPH
---
Combined revision instrument for revisions of electro-installations.
The instrument is intended for fast measurements of high-voltage installations, as the single-phase as the three-phase, with the phase voltage from 190 to 260 V, and for testing of current protections of all types - undelayed (-), delayed (G) and selective (S), sensitive as to the AC current and as to the pulsing one (A).
The measured values and other information are displayed on an backlit graphic display. The measured values (up to 1000 measurements) are stored. In memory. They can be shown on the display, or transmitted by the standard cable US A-B to computer for next procession.
The instrument complies with the standard CSN EN 61326-1 – Equipment class B, intermittent operation, and the standard CSN EN 61557 – Device for testing, measurement or monitoring of protective means. It is supplied from 4NiMh or NiCd accumulators, type AAA, which can be recharged inside the instrument. The delivery includes two-wire measuring adapter PD 191.1, 2 pcs crocodile clips and case.
Socket inspection:
voltage UL-PE: 0,5U L-N to 260V, ±(1%MH +1D)
voltage UL-N: 180 to 260 V, ±(1%MH +1D)
voltage UN-PE: 10 V to 0,5U L-N, ±(1%MH +1D)
socket test – verification of correct connection of conductors in the socket
informative measurement of voltage frequency: 15 to 450 Hz
Measurement in three-phase network:
measurement of mesh voltage up to 450V: 10 to 450 V, ±(1%MH +2D)
network inside impedance Z I between phases: 0,40 to 19,99 Ω, ±(5%MH + 12D)
phase frequency checking (with the adapter PD195 – upon order)
Measurement of loop impedances:
protecting loop impedance Z S: 0,40 to 19,99 Ω, ±(5%MH + 10D)
network inside impedance Z I: 0,40 to 19,99 Ω, ±(5%MH + 10D)
protecting loop impedance ZS behind protection 300 mA: 4,0 to 199,9 Ω, ±(5%MH + 10D)
protecting loop impedance ZS behind protection 30 mA: 50 to 1999 Ω, ±(5%MH + 15D)
Measurement of residual current protectors:
tripping time t A by AC current and pulsing current IDN: 0 to 999ms, ±(1%MH + 2ms)
tripping time t A by AC current and pulsing current 5xI DN: 0 to 150ms , ±(1%MH + 2ms)
measurement of tripping current ID by gradually increasing current: 50 to 110% IDN , ±( 6 % IΔN)
measurement of contact voltage by UB current 0,45xIDN: 0 to 99V , ±(6% MH+1V)
Resistance measurement:
RPE resistance measurement by current 200 mA with changed current polarity: 0,00 to 19,99Ω, ±(3%MH +10D)
RISO insulation resistance measurement by voltage 50V to 500V: 0,100 to 9,999MΩ, ±(3%MH+10D)
Technical parameters:
Weight: max. 1,4 kg incl. supply batteries, without packaging
Battery: 4 NiMh or NiCd accumulators, type AAA, which are recharged inside the instrument
Dimensions: 200 mm x 120 mm x 50 mm