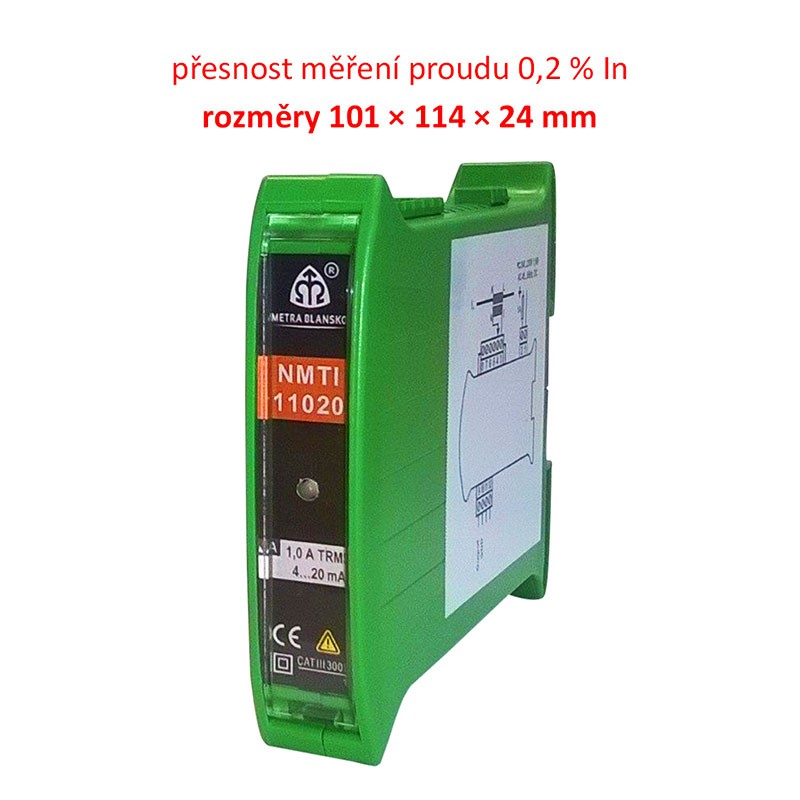 NMTI1 - current converter AC
---
NMTI 1 - Single-input transducer
A modern multipurpose quantity-to-current loop converter designed for installation in switchboards.
To order the devices as contact us at: mcu@metra.cz
NMTI 1 - Single-input transducer
The NMTI 1 transducer of alternating current is intended for mounting into switchboards. Its rated input current can be arbitrarily adjusted within the range from 1A to 5A, in accordance with the requirements of the user. The device measures the true effective (TRMS) value of AC.
ENGINEERING PARAMETERS
powering voltage 20V to 260V DC or AC 50/60 Hz
power consumption 1.5W at fully loaded outputs
number of current measuring inputs 1
rated input current In selectable within 1A to 5A range
input current range 0 to 1.2 In
accuracy of current measurement 0.2 % In
input overload capacity, permanently 1.2 In
short-time 20 x In /one second
- current type 0...20mA; 4...20 mA
or on order 0…x mA (x= 5 to 20 mA)
- voltage type 0...10 V
settling time after the connection of power supply 1 minute
operating temperature range -25 to +70°C
- voltage output Ru higher than Uan /8mA
- current output Ri loop resistance less than 10V/Ian
dielectric strength (as per ČSN EN 61010-1)
- inputs against the outputs and power circuits 3700V; 50Hz/1min
- in between the inputs 1000 V; 50 Hz/1min
weight no more than 150g
dimensions 101x114x24 mm
operating temperature range -25 to +70°C
error caused by ambient temperature
no more than ±0,1%/10°C as per the requirements of ČSN EN 606 88, to apply for –25°C to +55°C (+ additive error caused by ambient temperature ranging from +55°C to +80°C)
working position arbitrary
protection degree IP 20

electromagnetic compatibility radiation: in accordance with ČSN EN 55011-B standard

immunity: as per ČSN EN 6100-6-2 standard, ed.3
Safety according to ČSN EN 61010 – 1 standard: equipment of class II, overvoltage category III after having become a part of the installation (highest voltage against the earth: 300Vrms), pollution degree 2