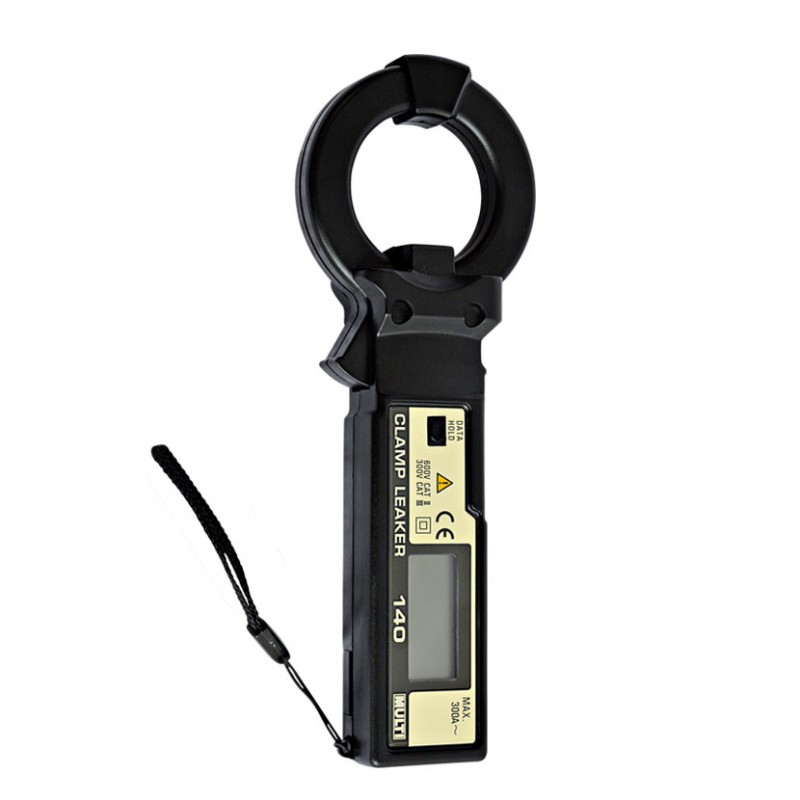 MULTI 140 MINI DIGITAL CLAMP TESTER
---
MINI DIGITAL CLAMP TESTER  
AC CURRENT
FEATURES
●Wide range of current measurements (AC 0.01A~300A).
SPECIFICATIONS
Safety standard

:IEC 61010-1(2010), IEC 61010-2-032(2002)

Installation CategoryⅡ600V or CategoryⅢ300V.

E.M.C. standard

:EN 61326(2006)

Measuring method

:Dual integration mode

Measuring function

:Leakage current and load current

Display

:3.5 digital LCD, max. reading of 3200

Range

:0~30mA/300mA/30A/300A (50/60Hz)

Ranging

:2 ranges manuals

Accuracy

:23℃±5 ℃, 80% RH max.
Range

Resolution

Accuracy

30/300mA

0.01mA

±1.2% rdg ±5 dgt

30/300A

0.01A

0~200A:±1.2% rdg ±5 dgt

200~250A:±3.0% rdg ±5 dgt

250~300A:±5.0% rdg ±5 dgt
Jaw opening capability

:40mmφ

Over range indication

:"OL" mark on LCD readout

Maximum indication

:3200 counts

Low battery indication

2.5V~2.7V; Battery mark on LCD readout

Sampling

:Approx. 2 times/s.(Digital display)

Approx. 12 times/s. (Bar graph display)

Data hold indication

:"DH" mark on LCD readout

Auto power off

:The meter is set to power off mode approx. 10 minutes after the power switch on.

Withstanding voltage

:AC3700V 1 minute max. (Between the core of CT and outer case)

Operating temperature

:0 ℃to 40℃, <80% RH (Non-condensing)

Storage temperature

:-10℃ to 60℃, <70% RH (Non-condensing)

Power supply

:LR-44 or SR-44×2

Power consumption

:Approx. 5mW

Battery life

:Approx. 50 hours (LR44)

Size

:64(W)×162(H)×23(D)mm

Weight

:Approx. 125g

Accessories

:Carrying case……1, Instruction manual……1, Batteries……2